Image Analysis of the Internal Structure of Paper and Wood Fibre Based Composite Materials in 3D images
Erik Wernersson, Anders Brun, Joakim Lindblad, Cris Luengo, Catherine Östlund, Gunilla Borgefors
Partners: Norwegian Pulp and Paper Research Institute, Trondheim, Norway; Innventia, Stockholm; Dept. of Fibre and Polymer Technology, Royal Institute of Technology, Stockholm; Dept. of Physics, University of Jyväskylä (UJ), Finland; SINTEF Materials and Chemistry, Norway; Risø National Laboratory, Technical University of Denmark, Faculty of Engineering, University of Novi Sad, Serbia
Funding: S-faculty, SLU; WoodWisdom-Net
Period: 0406-
Abstract: The internal structure of paper is important because many of its properties correspond directly to the properties of single fibres and their interaction in the fibre network. How single fibres in paper bond and how this affects paper quality is not fully understood, since most structure analysis of paper has been performed in cross-sectional, two-dimensional (2D) images whereas paper is a complex, three-dimensional (3D) structure, see Fig.
.

Another application for wood fibres that has recently gained interest is wood polymer composite materials. The properties of these materials do not only depend on the structure of the fibre network, but also on the interaction between the fibres and the polymer matrix surrounding the fibres.

Advances in imaging technology have made it possible to acquire 3D images of paper and wood polymer composite materials. In this project, image analysis methods for characterizing the 3D material structure in such images are developed. The detailed knowledge of the material structure attainable with these methods is useful for improving material properties and for developing new materials.

The project objective is to achieve a complete segmentation of individual fibres and pores in volume images of the material. Given such a segmentation, any desired measurement of the internal structure is available. Measurements on individual fibres and the structural arrangement of fibres can then be related to macroscopic material properties.

In this project, different volume images of paper and composite materials are available: one volume created from a series of 2D scanning electron microscopy (SEM) images at StoraEnso, Falun; and X-ray microtomography volume images of paper and composite samples imaged at the European Radiation Synchrotron Facility (ESRF) in Grenoble, France, at the Paul Scherrer Institut (PSI) in Villigen, Switzerland and during 2010 we have acquired several data with a tabletop scanner at University of Jyväskylä, Finland.

During 2010 further development of methods for de-noising of the acquired image volumes was undertaken. A variational approach, minimizing the image Total Variation by Spectral Conjugate Gradient optimization, showed to outperform previously used SUSAN filtering. The developed model for generating synthetic µCT data
facilitated objective performance comparison. Results of this study were presented at the International Conference on Pattern Recognition (ICPR) in August 2010 and some examples can be seen in Fig.
Figure: (a) A slice from a binarised volume image of a composite material and (b) a surface rendering of a sample of a composite material.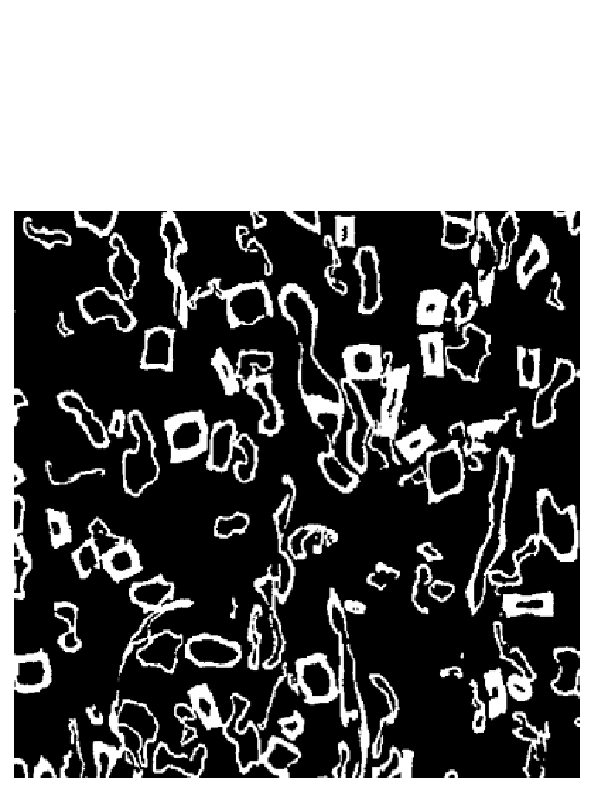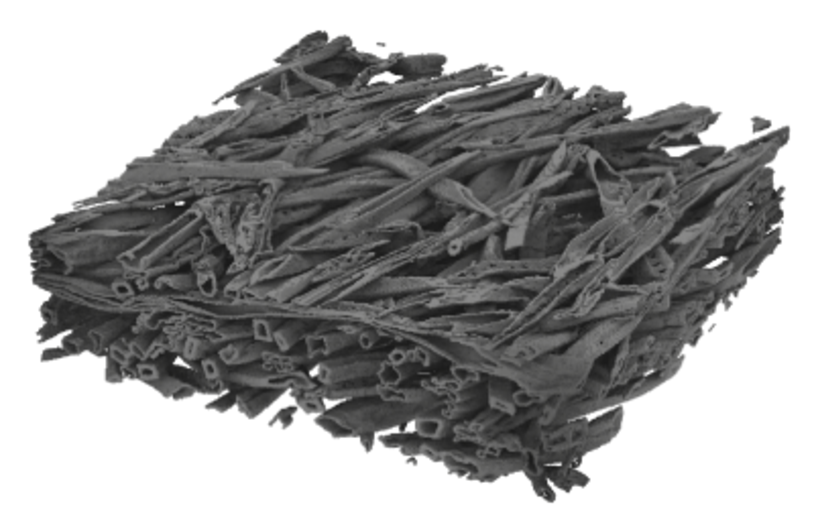 Figure: Left: Cross section of images with synthetic noise. Right: Noise removed by one of our methods where the image Total Variation is minimized by Spectral Conjugate Gradient optimization.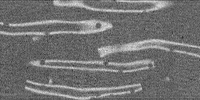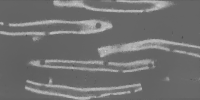 Generating Synthetic Log end Face Images
Kristin Norell, Gunilla Borgefors
Partners: The Swedish Timber Measurement Council; Dept. of Forest Products and Markets, SLU
Funding: The Swedish Timber Measurement Council; SLU S-faculty
Period: 0901-1012
Abstract: A small dataset or lack of ground truth can be a problem when developing and evaluating image analysis methods. In such cases synthetic images can be useful as a complement to real data. In this project a generator for synthetic end face images was developed.

End face features are generated according to the procedure of tree growth, including annual rings, knots, heartwood and bark. Also other features are simulated, such as unevenness and roughness from harvesting, camera setup, illumination, and imaging, including colour noise due to Bayer filtering.